Sleeping Beauty
March 10-19 | Knight Theater at Levine Center for the Arts
The magic of SLEEPING BEAUTY makes for the perfect outing whether you're taking in this timeless tale with friends, family or a date. We asked four of our favorite Charlotte food bloggers to give us their recommendations for making Sleeping Beauty a most enchanted Uptown outing.
With tickets starting at just $25, get yours today and start planning your perfect night out.
Jessica Moore
Blog: FINICKY LADY
As a kid, Sleeping Beauty was one of my favorite Disney cartoon movies. I always felt it was a bit more mysterious than your Cinderella or Snow White princess stories. I think we all need a bit of mystery and excitement in our lives and what better way than to watch in awe at the talent on stage with the Charlotte Ballet and spend an evening in our gorgeous Queen City?
In honor of Princess Aurora, The Lilac Fairy and the Prince who broke her spell, these are my top suggestions for an enchanting evening to pair alongside the Charlotte Ballet production of Sleeping Beauty.
Prin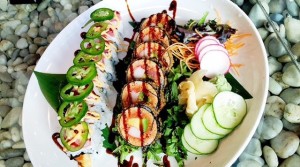 ce Florimund & His Steady Horse | Dinner @PISCESSUSHI
Order the Love Boat, which features 10 pieces of nigiri plus 3 rolls. If you aren't into sushi they have large selection of cooked rolls as well as hot kitchen features like Maple Duck Breast, Hibachi, and more. If you're feeling a bit daring like the Prince, order the Omakase, a meal hand-picked just for you by the chef.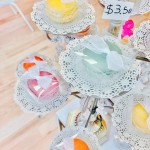 The Lilac Fairy| Dessert @LEMACARON
After dinner at Pisces, walk a few doors down to Le Macaron. The sweet fairy godmothers to Aurora would match up perfectly with some sugary treats from this little spot. Order a couple macaroons, some homemade gelato or even some truffles. They are cute as they are tasty. Now you're ready to head over to Knight's Theater.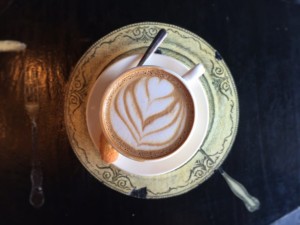 Carabosse | Coffee @AMELIE'S
Coffee has been described (by some) as harsh, bitter, and unappealing…much like Carabosse. I for one love coffee and all types of caffeinated specialty drinks. Nothing quite beats a great cup of coffee so after the show, grab some from Amelie's.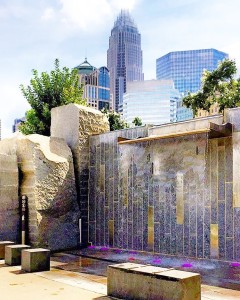 Princess Aurora | Evening Walk at ROMARE BEARDEN PARK
Saving the best for last, after leaving Amelie's take a leisurely walk to Romare Bearden Park. View the ever-growing beautiful Charlotte skyline from a fantastic vantage point while listening to the water features in the background and reminisce about your evening and the Charlotte Ballet.
Thank you for letting me take you on this journey, let me know what you decided to do by connecting with me on social media!
Chrissie Rotko
Blog: OFF THE EATEN PATH
A day date to a Sleeping Beauty matinee show definitely need brunch or lunch, so head Uptown a few hours before the matinee performance to enjoy some of my favorite restaurants in Charlotte. MIMOSA GRILL, on the corner of Tryon Street and Martin Luther King Jr. Blvd (seriously just across the street from the Knight Theater) has fabulous Saturday and Sunday Brunch options. On Saturdays, you can enjoy some of Mimosa Grill's most popular dishes, like Pecan Crusted NC Mountain Trout or Chicken and Waffles, with an a la cart option (also, chicken and waffles paired with a Bloody Mary flight sounds incredible to me). On Sundays, Mimosa Grill offers a brunch buffet for $24.95 ($12.95 for kids) with endless options.
If you're feeling more of a lunch than brunch situation and still want to stick close to the Knight Theater, I highly recommend HALCYON FLAVORS FROM THE EARTH, in the MINT MUSEUM right next door to the Knight Theater. There, you can indulge in a lunch of local flavors, with their focus on seasonal, locally sourced ingredients.
If you're like me and brunch beverages are your thing, head over to DRAUGHT in the Third Ward and opt for their mimosa bar. Your waiter will deliver a bottle of champagne to your table and then you get your pick of five different juice options and fruit fixings.
Tanya
Blog: MY FORKING LIFE
There are so many things to do in uptown Charlotte before and after Charlotte Ballet's Sleeping Beauty performance. I'd recommend heading to ROCK BOTTOM RESTAURANT & BREWERYbefore the
ballet for appetizers and a tall glass of beer. This restaurant has its own brewery on the premises and has some pretty tasty appetizers. The artichoke and crab dip is my favorite on the menu.
After the show, I'd head over to SPORTS ONE for a martini and late dinner, ordering my favorite salmon dish as I listen to music and mingle with other guest.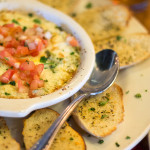 If you're looking for a cute spot to grab a quick sweet treat, I'd recommend heading over to BAR COCOA at the Ritz Carlton for some macarons, gelato, or fancy chocolates.

Kseniya Martin
Blog: BIRCH COLLECTIVE
Every parent knows that in order to increase the chances of good behavior you have make sure that your child is well rested, has a full belly, and they have released their pent up energy. This is even more important when taking your child to see a matinee performance, like at Sleeping Beauty!
One of my favorite family friendly restaurants in Uptown is MELLOW MUSHROOM. They have an extensive menu that is sure to please everyone. Order a large pie for the adults (our favorite is the House Special) and let the kids circle what they want to eat on the coloring sheet that also doubles as a kids menu. If the weather allows, which it typically does here in the South, dine al fresco on the patio and enjoy a view of Uptown.
After lunch, swing by NOT JUST COFFEE inside PACKARD PLACE for a little extra fuel for you. Order the vanilla sugar latte, you won't be disappointed! Then let your kids run free at ROMARE BEARDEN PARKwhile you enjoy your cup of joe.
All of these destinations are within walking distance of the Knight Theater so park your car once, fuel your bodies, breathe some fresh air and enjoy the ballet!