Getting dressed up for a date night anywhere Uptown is fun, but take it to the next level when you pair it with the ballet! Don't just take it from us – UPTOWNGIRLCLT, our inspiration for all things Charlotte, spent her most recent date night enjoying Charlotte Ballet's INNOVATIVE WORKS. Get some inspiration for a night of your own – it IS almost Valentine's day after all… – and read on to see why she says this particular night out was "by far the best date night I have ever had."
"I have always loved dance. I tried taking a ballet class once as a little girl, but there are a lot of things I have found that I am really terrible at in this world, and ballet was one of them. You don't know until you try, though. So instead, I celebrated my love for dance by passionately watching dance movies. Some of my favorite classics are Dirty Dancing, Footloose, and Flashdance that just about every person can break in to song when asked. Then there are the school day era films like Bring it On, Center Stage, Honey and Save the Last Dance that I will watch any time I come across it. After a while, dance shows on television started becoming a thing. Of course Soul Train had been around, but newer ones were being created like Dancing with the Stars, Dance Moms, America's Best Dance Crew, and more. However, I became captivated by So You Think You Can Dance, watching every day people with so much talent putting it all out there, and I would find myself crying at their wordless storytelling.
I may have not been designed to be a good dancer, but I was designed to feel a good dancer.
Despite all this time I have spent enjoying dance entertainment, I had never actually seen a true performance or show in person. That is until recently, when I was selected as part of a group for the opportunity to view a final dress rehearsal of the CHARLOTTE BALLET Nutcracker this past Christmas season. Even just the dress rehearsal was enough to completely enthrall me. I left that night feeling an even stronger connection to dance (watching) than ever. When I was asked to come experience their annual show INNOVATIVE WORKS this month as a way to feature it as a date night idea, I knew I had to be there.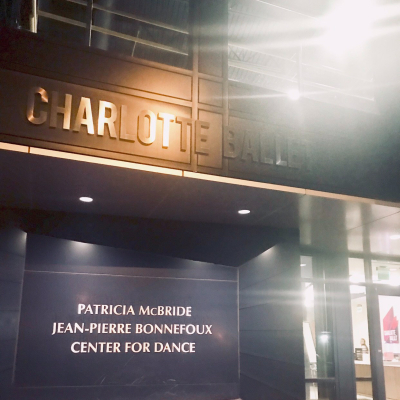 Once we stepped inside, we were given our tickets and then stopped by the drink station to grab two glasses of wine for the show.  We had never been to this venue before, so we were pleasantly shocked to see how intimate the setting was! The stage was quite literally five feet away from where we were sitting. It is impossible to have a bad seat here! There are no phones allowed during the show, so while I don't have any personal photos or videos to share, I do have a very personal and emotional experience to share with you.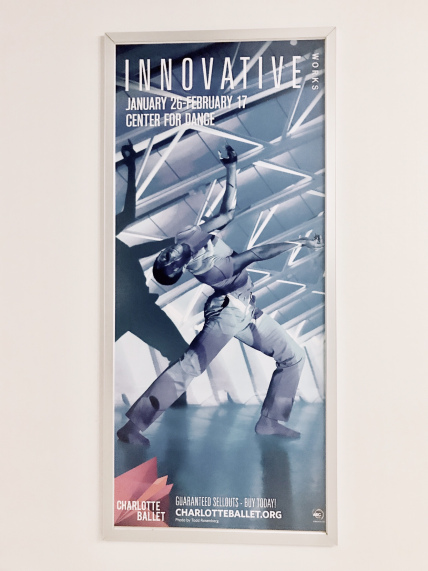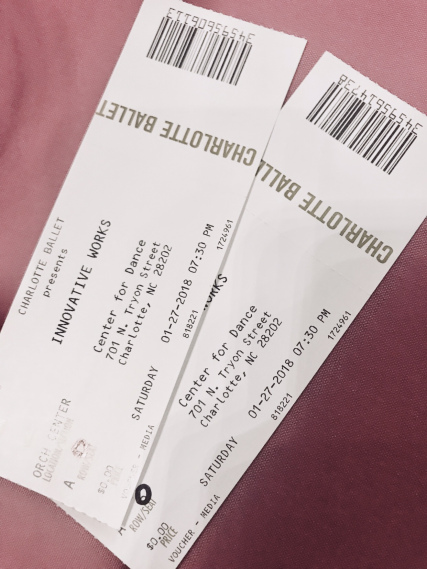 To explain Innovative Works, various choreographers are chosen to showcase contemporary works that they have created for this unique event. Before each performance, an interview with the choreographer is played on a television screen (yes, it's really that close of a space!) to give you an inside look at what part of their thought process was behind the dance you were about to see. I loved this! It did not give too much away that might push an interpretation on you, but did give you a starting point.
Within the first ten minutes of the first piece, I felt tears starting to well up in my eyes until there was just too many of them that they started to spill out on to my cheeks.
I casually wiped them away as they danced, but they just kept coming. It was if I was watching myself on that stage, fighting every part of my life time of anxiety there. To me, this dance was about mental health. It was about breaking yourself down, and building yourself back up. It was about wanting to be perfect, all the time. It was about wanting to please all. It was about the constant battle. It was about all of those different versions of yourself wanting your attention. I was not expecting this in the least. I was not the one up there on that stage, and yet I felt so vulnerable and open to what these feelings were pouring out of me. I turned to Megan to see what she thought, and of course we had two entirely different interpretations. She was not seeing the story as one individual's battle, she was seeing it as separate people going through something very unlike what I was seeing.
That is what is so beautiful about dance. I believe it shows you what you need to see.
The ironic part of how this made me feel, is that in the choreographer's interview, she is talking about how the music was chosen for the piece. She asked the one helping her with this if he was envisioning the "end of the world" when he heard it, and he responded with "no, a woman." It is amazing that you can connect that statement with my reaction.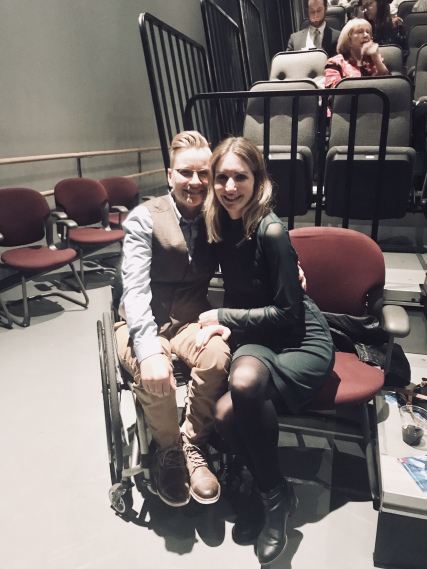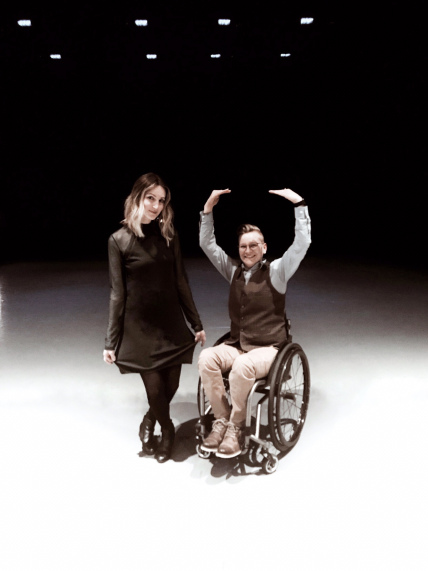 By intermission, I was in the restroom washing the mascara off my face. If the first act affected me this much, I was not sure what to expect with the last.
When it first started, I was having a hard time trying to understand what was happening. I decided not to focus on coming up with a reason, but to just sit, watch and feel. Close to the end of it, I finally knew what I myself was seeing. I was seeing an inner self (mine?) endlessly working to prove that the self (me?) was worthy. Worthy to be who you are, no matter what or who that is. Worthy to be happy. Worthy to be passionate. Worthy to be loved. Take off the hood, and show who you are. Let your light shine. 
This had brought the entire show full circle for me, starting with acknowledging those feelings in the beginning, to understanding that despite those feelings, I am still worthy. We are all worthy.
Now, this may be completely off from the original meaning behind the dances, and you may read this and see for yourself that you have an altogether different experience. All I can say, is to
consider giving yourself the opportunity. You never know what watching these gifted dancers may do for you. This was by far the best date night I have ever had. It was absolutely life changing.
We started date night at a well known upscale restaurant in Charlotte, THE FIG TREE. It's unique in that it's in a restored early 1900's craftsman bungalow (wheelchair accessible, too!) with five elegant dining rooms, multiple grand fireplaces, and a large veranda for outdoor dining on beautiful days. It's less than 2 miles from the theater where Innovative Works is shown, so it was the perfect choice for dinner!
Our server was Sam, who was an absolute dream. She was warm and inviting, knowledgeable about the menu, and helped us decide which of the many diverse and carefully selected wines they offer to choose from. She also treated us with excellent "silent service" throughout our meal, clearing our plates and silverware, refilling our glasses, and checking on us all without us having to stop our conversations. We never had to once ask for a thing.
We decided to pass on a starter so that we could plan to save room for dessert. It was date night, after all. We did have salads included with the main course, so I went with the  house salad lightly tossed in a house made herb vinaigrette, and added goat cheese because, goat cheese. Megan went with the baby spinach salad with hard boiled quail egg and finished with a house made warm maple bacon vinaigrette, and added pine nuts for a little crunch.
For our main entrees, I chose the pappardelle pasta dish which was absolutely delicious. It consisted of house made pasta with porcini mushrooms, spinach and butternut squash in porcini cream sauce with truffled ricotta. Megan went with the North Carolina trout dish with jumbo lump crab meat, granny smith apples, horseradish beurre blanc and asparagus. We were both more than pleased with our meals. Everything was cooked to perfection and a delight to our palates.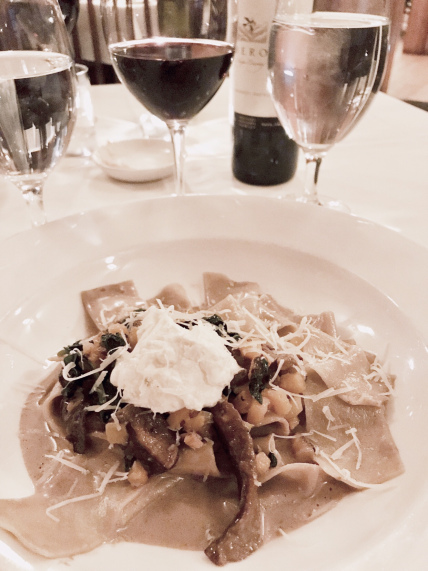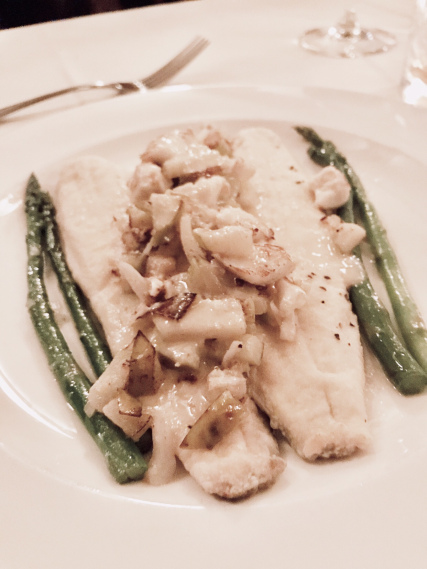 Now it was time for dessert, and to our surprise, there was more than just two or three to choose from! We couldn't decide on just one, so we chose two! The first pick was the beignets, which are served warm with a cinnamon crème anglaise and a scoop of coffee ice creamover a bed of white chocolate crumbles. These left me speechless. Just SO good. Our other choice was the chocolate fudge cake. It came with a spiced cream cheese frosting, dark chocolate-chili truffles (these were amazing), black cherry coulis, feuilletine, and wait for it….parmigiano-reggiano ICE CREAM. Yes, you read that right. That little scoop of cheese infused ice cream literally made me tear up because my body could not contain the joy. As it turns out, this dessert wouldn't be the only thing making me cry on date night.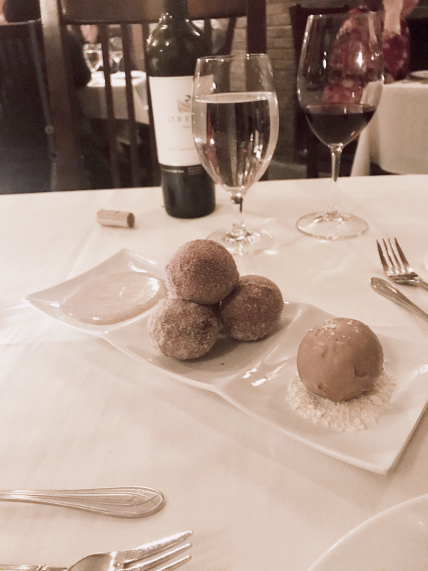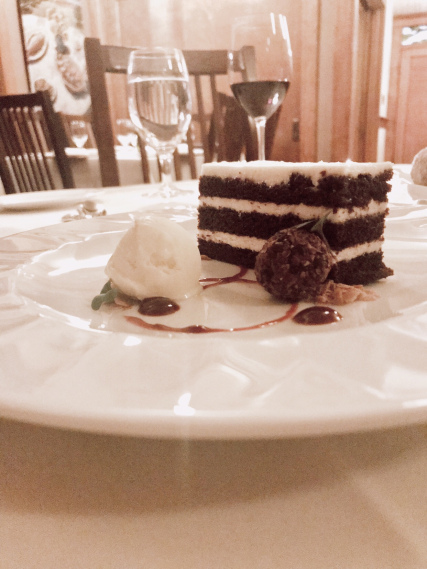 Once we finished our desserts, we couldn't stop raving about them to our server, Sam. She delivered the message to the pastry chef (or as we like to refer to her, the dessert wizard) Sam Allen who took the time to not only send us a special dessert to our table, but came out and met us!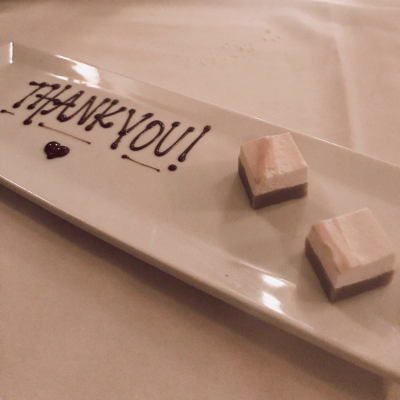 Overall, choosing The Fig Tree for date night was such a great decision in our opinion and a dinner we will always remember! Thanks to the everyone there for such a delightful meal."
All images provided by UptownGirlCLT